Achieving the entirety of any art is not merely screening on the eyes and bestowing it on the ears; any art becomes lively only when the mind is stirred and melted — thus paving the way for an artist to become an epic.
Films are aptly known as an art of many arts. Beyond doubt, one has to master many arenas to become a film director. Setting a trend of one's own in the expanse of film direction even while film technology was still in its embryonic stage was an audacious task. One of the rarest film directors in the Telugu Film industry that had surpassed the obstacle and feat was Kasinadhuni Viswanath — the architect of reinventing and rediscovering Telugu movies.
K. Viswanath was born on 19th February in the year 1930. He was a man far ahead of his era that had mastered many areas of filmmaking such as direction, story and screenplay writing, acting, sound engineering, etc. As one of the paramount filmmakers of Telugu Cinema, he was an acclaimed international persona — known for his unique artistic works. He was celebrated for amalgamating mainstream cinema with parallel cinema — a film movement in Indian cinema that originated in the state of West Bengal in the 1950s as an alternative to mainstream commercial Indian cinema.
Stimulated by Italian Neorealism, Parallel Cinema began just before the French New Wave and Japanese New Wave. It was the predecessor to the Indian evolutionary measure in the film movement. The movement was initially led by Bengali cinema in the 1960s and steered it to elevate internationally acclaimed filmmakers such as Satyajit Ray, Mrinal Sen and others. If Satyajit Ray is to be hailed for parallel cinema in Bengali, K. Viswanath retains the tribute for his mark of parallel cinema in Telugu.
Kasinadhuni Viswanath had begun his career in the film industry as an audiographer, and later he was at the helm of filmmaking, directing over 50 movies in his career span of sixty years. He directed 53 feature films in a variety of genres — the main emphasis was on performing and visual arts, aesthetics, and melodrama. Viswanath's filmography has been known through the medium of liberal arts for addressing such issues as socio-economic encounters, caste, creed, gender discrimination, misogyny, and debility. Nevertheless, Kasinadhuni Viswanath's films were never eccentric cinema, but wholesome entertainers that raised the image of lead roles.
Though K. Viswanath debuted as a film director with the movie Aatma Gowravam in 1965, he was beforehand associated with such fabled movies as Pathala Bhairavi as an assistant director to K.V. Reddy. During his early career, Viswanath was associated with Adurthi Subba Rao and K. Ramnoth. Many times K. Viswanath had expressed that he wished to work as an assistant to directors K. Balachander and Bapu. Nevertheless, destiny made him one among those legendaries — placed him in the same contour as those he admired.
In the initial days of his career, K Vishwanath had apprenticed under A. Krishnan, the Head of Sound Engineering at Vauhini Studios. As is palpable through many interviews with K. Viswanath, he had established a close affinity with A. Krishnan. After K. Vishwanath had made the transition into film direction, he would always spring back with ideas of A. Krishnan.
K. Vishwanath was associated with films of assorted genres, beginning with drama in such movies as Chelleli Kapuram, Sarada, Jeevana Jyothi, etc. However, Siri Siri Muvva was the first-ever movie that put forward the artistic touch in his craft. Sankarabharanam is an all-time blockbuster in the career span of K. Viswanath. The movie vitrines the desertion of traditional Indian music under the growing impact of western music and institutes the sumptuousness of Carnatic music in the climax. Indubitably, Sankarabharanam contributed to the revitalisation of Carnatic music in a great way.
K. Viswanath's style of filmmaking is rare of its kind — core to inventiveness. For example, he was the pioneer who could achieve the triumph of the film Sagara Sangamam even by instituting the detail in the very first frame of the film that the film was all about a man who failed in his life. His way of filmmaking cuddled a wide range of characters that include mentally and physically challenged characters too, in such movies as Swathi Muthyam and Sirivennela. Viswanath's films deal with a conduit towards comprehensiveness that affects positive spiritual change at both personal and social levels.
According to me, K. Vishwanath is one and the same as films with social issues. Most of his films deal with a wide range of human and social issues. To name a few, movies such as Swayam Krushi, Saptapadi, Swathi Kiranam, and Swarnakamalam have lead roles signifying different strata of society — precisely etched to outfit the larger picture.
One of the essential characteristics palpable in K. Viswanath's movies is that the right amount of emphasis on the intended message is derived by treating the character roles subtly with an imaginative storyline. K. Viswanath also directed films in the Hindi language that were established as Boxoffice hits.
Apart from instituting himself as a great technician and director of Indian films, K. Viswanth had been a great actor ever since he debuted in his self-direction as an actor in the Telugu film Subha Sankalpam. Later, he appeared in various character roles of prominence in many movies. Besides, he also acted in a few television serials.
Insofar as ensnaring accolades by any artist are concerned, nothing becomes more significant than possessing an eternal place in the hearts of the audience. K. Viswanath had taken hold of a perpetual place in the hearts of Telugu film audiences. Even so, the legendary director won many laurels and awards, beginning with the Nandi Award for Best Feature Film of the year 1965 for his debut film Aathma Gowravam. K.Viswanath's classic blockbusters Sankarabharanam and Sagara Sangamam were included among CNN-IBN's list of one hundred greatest Indian films of all time. His directorial works Sankarabharanam and Saptapadi have garnered the National Film Award for Best Popular Film Providing Wholesome Entertainment and Best Feature Film on National Integration, respectively. He was the recipient of the Prize of the Public at the Besançon Film Festival of France in the year 1981. In addition, he received many other awards as Padma Shri in 1992 from the Government of India and the Dadasaheb Phalke Award in 2017 for lifetime achievement in cinema. Besides, his films were exhibited as matchless creations in many national and international film festivals.
To make a special note, in his films K. Viswanath placed the content in the broad arena of de-westernising media studies, through immersive and culturally embedded perspectives to offer modern and postmodern dimensions. His films were tenanted by characters stuck in a caste-based society. Leaving behind many such things as his legacy of artistic works that could be called to mind by Indian film audiences, the legendary director, Kasinadhuni Viswanath, died on 2nd February 2023, at the age of 92 in Hyderabad.
In concluding words, I would like to recall what has been debated at the beginning i.e. "Achieving the entirety of any art is not merely screening on the eyes and bestowing it on the ears; any art becomes lively only when the mind is stirred and melted — thus paving the way for an artist to become an epic." Certainly, K. Viswanath's movies have achieved the entirety and paved a way for him to become a legendary director with a social-conscious mind, who believed cinema could bring out desirable changes in society if presented in an arrangement liked by a cross-section of the audiences!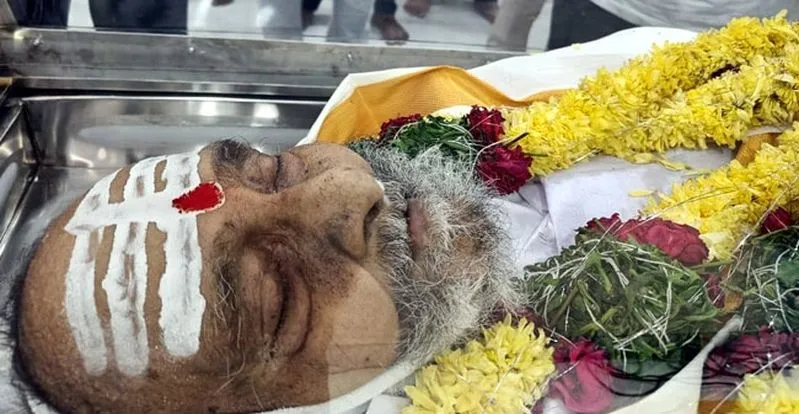 A tribute to the great Kasinadhuni Viswanath
© Dr. Suman Kumar Kasturi 2023